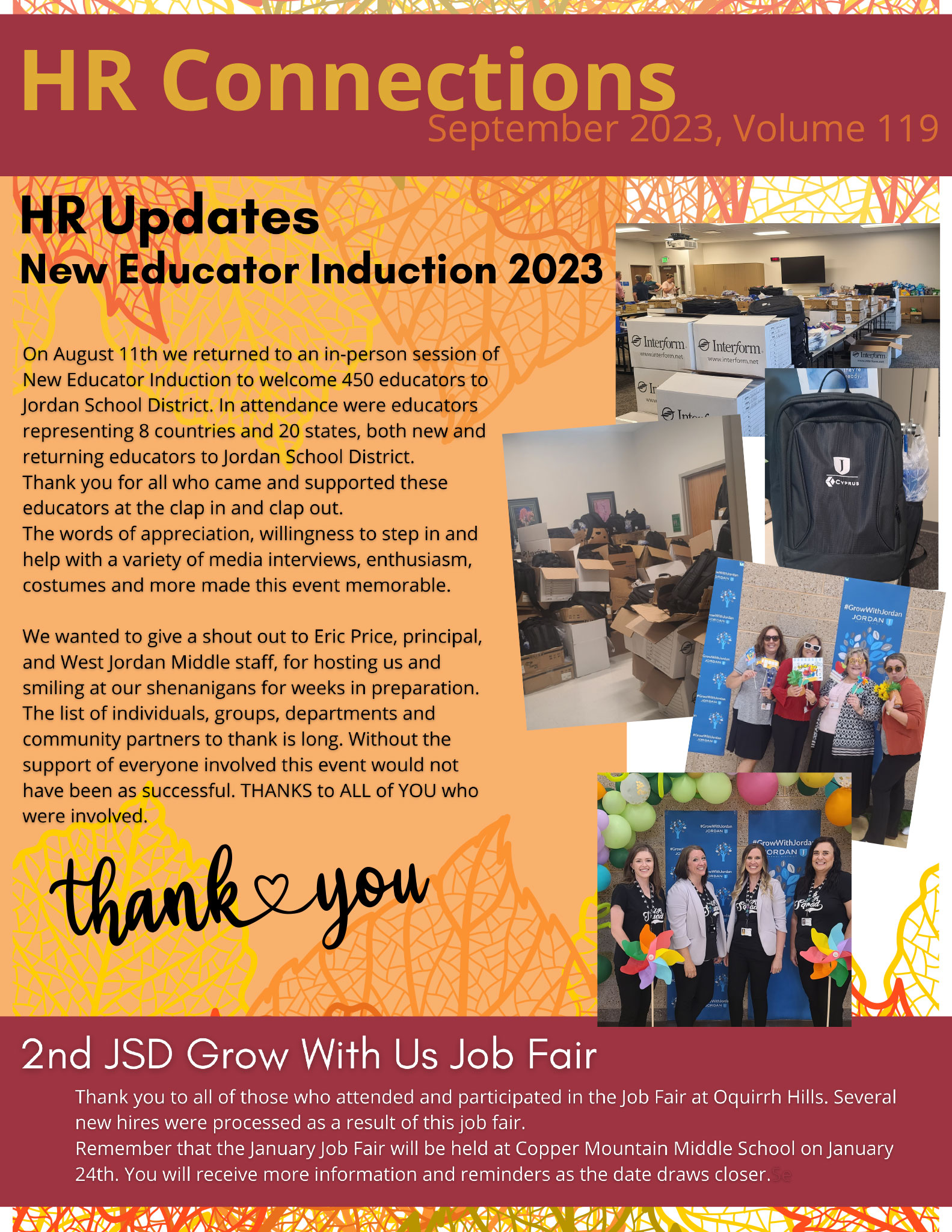 New Educator Induction 2023
On Aug. 11 we returned to an in-person session of New Educator Induction to welcome 450 educators to Jordan School District. In attendance were educators representing 8 countries and 20 states, both new and returning educators to Jordan School District. Thank you for all who came and supported these educators at the clap in and clap out. The words of appreciation, willingness to step in and help with a variety of media interviews, enthusiasm, costumes and more made this event memorable.
We wanted to give a shout out to Eric Price, principal, and WestJordan Middle staff, for hosting us and smiling at our shenanigans for weeks in preparation. The list of individuals, groups, departments and community partners to thank is long. Without the support of everyone involved this event would not have been as successful. THANKS to ALL of YOU who were involved.
---
2nd JSD Grow With Us Job Fair
Thank you to all of those who attended and participated in the Job Fair at Oquirrh Hills. Several new hires were processed as a result of this job fair.
Remember that the January Job Fair will be held at Copper Mountain Middle School on January 24th. You will receive more information and reminders as the date draws closer.
---
Substitute Office - September Substitute Incentive
Our substitute incentive bonus is back. For substitutes who qualify as outlined with NO CANCELLATIONS during September, 2023 will be eligible for a bonus to be paid on the October10th paycheck.
** As a reminder, benefit-eligible substitute teachers working full-time at the various schoollocations throughout the District DO NOT QUALIFY for the monthly substitute teacher bonus incentives.
September 2023 Substitute Incentive Bonus
16 days worked - $275.00
14 days worked - $175.00
11 days worked - $100.00
8 days worked - $50.00
REMEMBER: These bonuses are contingent upon NO CANCELLATIONS during that month of September. There are no exceptions to the 'No Cancellation' eligibility requirement, regardless of circumstances.
---
Reconciliation Reminders
It is reconciliation time again. Remember that we have made significant changes.
In order to have changes made after the Frontline lock date, you will need to submit the Google Form. (We recommend you bookmark this link.) **This form does not replace the Move Money process**
New absences entered after the deadline will need to have a Google Form completed as well. Here are a few helpful reminders to help your reconciliation:
Using the Sub Sign-in and Sign-out sheet with the "AAA School Principals Month End Report" inFrontline and the "My Employees Detailed Transaction Report" in Skyward to complete your reconciliation. (See Canvas course for details and helpful reminders.)
Encourage educators to actively use the "Notes to Substitute" section
Posting the Substitute Expectations in many places, including at your Sign-In and Sign-Out location.
Full Day Fridays! Remember to check Fridays to make sure absences show as a full day forsubstitutes, to ensure that they are paid accurately.
Reconcile daily when possible, weekly at minimum.
---
Sub Office Contact Information
Don't forget the Sub Office has updated contact information:
Email: suboffice@jordandistrict.org
Phone: 801-567-8219
---
On the HR Calendar
Sept. 1 - FTE Enrollment/Staffing- 10th DayCount
DUE DATE Sept. 1 -Temporary Agreements DUEto HR
DUE DATE Sept. 1 - Extra Period Stipends DUE
Sept. 4 - District Office Closed for Labor Day
Sept. 9 - Fall Recess Lottery Window Opens
Sept. 8 - First Substitute Pay Day
Sept. 15  - CACTUS Upload
Sept. 19 - Fall Recess Lottery Window Closes
Sept. 20 - FTE Audits Released
Sept. 25 - All Employee Payroll
Oct. 2  - FTE Enrollment/Staffing Reports
Oct. 2 - USBE CACTUS Reports
DUE DATE Oct. 2 - FTE Audits DUE to HR
**30 days AFTER student instruction begins - Educators with an Associate Educator License (AEL) will meet with HR to review their Professional LearningPlan (PLP)**
---
Extra Period Stipends
To ensure accurate pay, extra period stipends need to be submitted in Skyward by Sept.1.
**Hourly teachers need to be submitted annually.**
---
FTE Audits This Month
September starts FTE Audits. Information will be forthcoming in JAM. Please watch for details andupdates.
The release date of the FTE Audits to be reviewed is scheduled September 20th. The FTE Audits willbe due on or before October 2nd.
---
Volunteer Fingerprinting Reminder
Volunteer fingerprinting is still by appointment ONLY. Volunteers must make an appointment and have the completed and administrator signed volunteer form with them.
Remember, the school keeps Code of Conduct Signature Form. Please do not send volunteers to be printed who have not completed the process.
Check your Payroll Deadlines for bi-monthlyFrontline/Skyward reconciliation for substitute pay days.
---