Dear Valued Educator:
The Utah State Board of Education is pleased to announce that the Teacher Salary Supplement Program (TSSP) Service Site application submission is available October 1, 2018 through April 30, 2019 .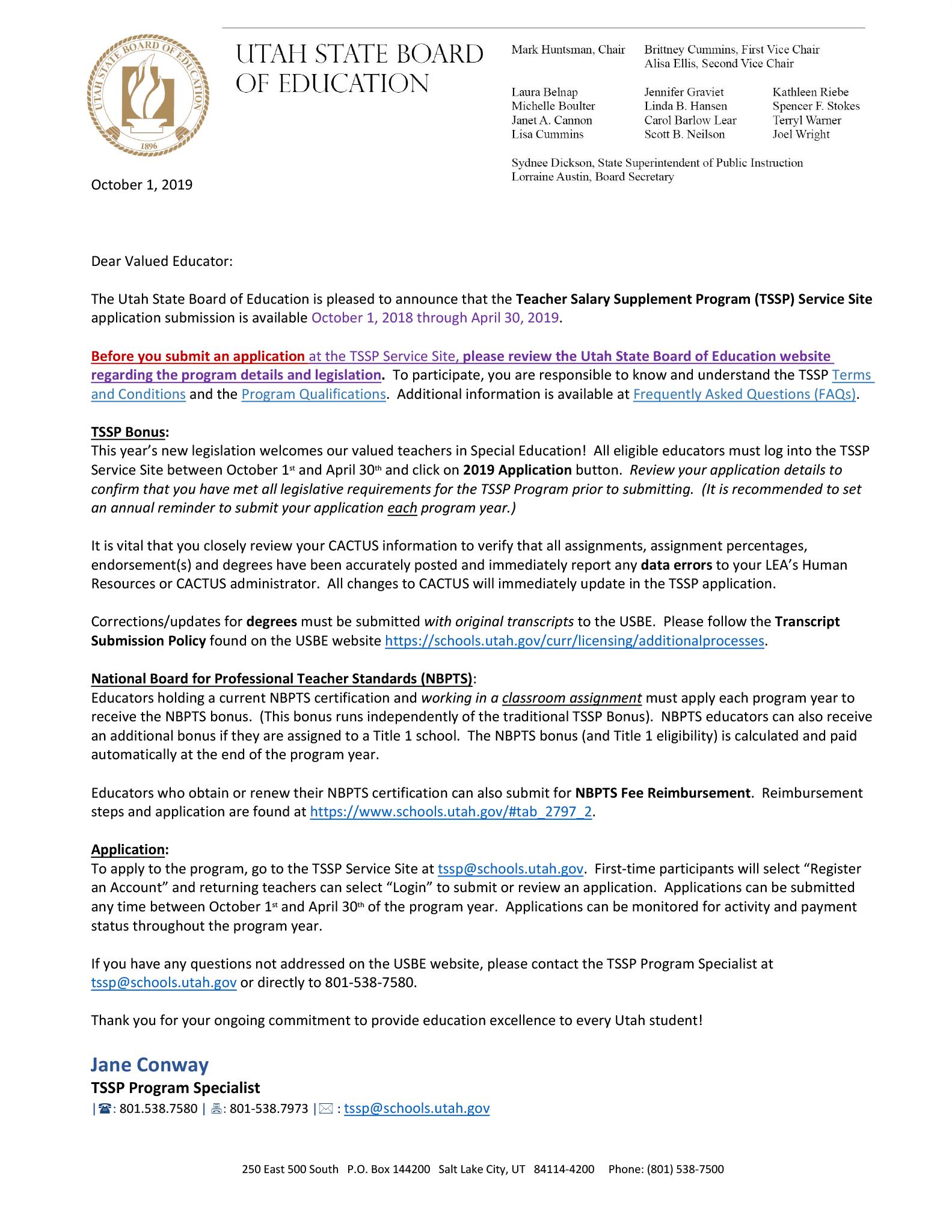 Before you submit an application at the TSSP Service Site, please review the Utah State Board of Education website regarding the program details and legislation.  To participate, you are responsible to know and understand the TSSP Terms and Conditions and the Program Qualifications. Additional information is available at Frequently Asked Questions (FAQs) .
TSSP Bonus:
This year's new legislation welcomes our valued teachers in Special Education! All eligible educators must log into the TSSP Service Site between October 1st and April 30th and click on 2019 Application button. Review your application details to confirm that you have met all legislative requirements for the TSSP Program prior to submitting. (It is recommended to set an annual reminder to submit your application each program year.)
It is vital that you closely review your CACTUS information to verify that all assignments, assignment percentages, endorsement(s) and degrees have been accurately posted and immediately report any data errors to your LEA's Human Resources or CACTUS administrator. All changes to CACTUS will immediately update in the TSSP application.
Corrections/updates for degrees  must be submitted with original transcripts  to the USBE. Please follow the Transcript Submission Policy found on the USBE website at https://schools.utah.gov/curr/licensing/additionalprocesses.
National Board for Professional Teacher Standards (NBPTS):
Educators holding a current NBPTS certification and working in a classroom assignment  must apply each program year to receive the NBPTS bonus. (This bonus runs independently of the traditional TSSP Bonus). NBPTS educators can also receive an additional bonus if they are assigned to a Title 1 school. The NBPTS bonus (and Title 1 eligibility) is calculated and paid automatically at the end of the program year.
Educators who obtain or renew their NBPTS certification can also submit for NBPTS Fee Reimbursement. Reimbursement steps and application are found at https://www.schools.utah.gov/#tab_2797_2.
Application:
To apply to the program, go to the TSSP Service Site at tssp@schools.utah.gov . First-time participants will select "Register an Account" and returning teachers can select "Login" to submit or review an application. Applications can be submitted any time between October 1st and April 30th of the program year. Applications can be monitored for activity and payment status throughout the program year.
If you have any questions not addressed on the USBE website, please contact the TSSP Program Specialist at
tssp@schools.utah.gov or directly to 801-538-7580.
Thank you for your ongoing commitment to provide education excellence to every Utah student!
Jane Conway
TSSP Program Specialist
Tel: 801.538.7580 | Fax: 801-538.7973 |E-mail : tssp@schools.utah.gov