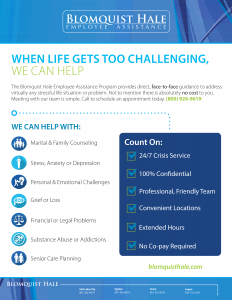 Jordan School District provides employees with short-term, confidential counseling through Blomquist-Hale. The Employee Assistance Program (EAP) can be used by you and anyone else in your household at no out-of-pocket expense to you.
Services provided include marital and family counseling, stress/anxiety/depression counseling, assistance with financial or legal problems, and coping with grief and loss.
The services are 100% confidential and are offered at convenient locations throughout the area.
For more information or to schedule an appointment call (800) 926-9619 or visit the Blomquist-Hale website.