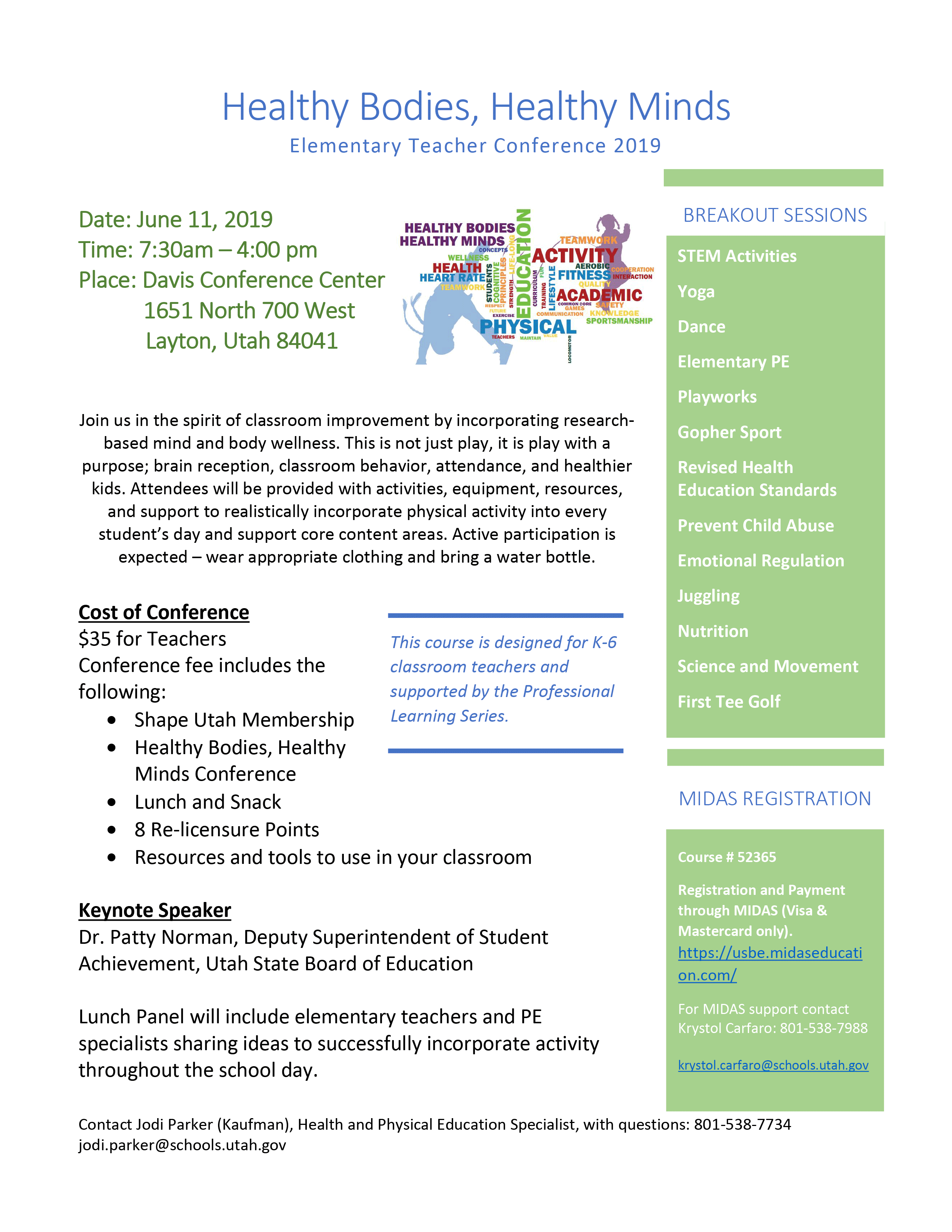 Join us in the spirit of classroom improvement by incorporating research-based mind and body wellness. This is not just play, it is play with a purpose; brain reception, classroom behavior, attendance, and healthier kids. Attendees will be provided with activities, equipment, resources, and support to realistically incorporate physical activity into every student's day and support core content areas. Active participation is expected – wear appropriate clothing and bring a water bottle.
Date: June 11, 2019
Time: 7:30am – 4:00 pm
Place: Davis Conference Center
1651 North 700 West
Layton, Utah 84041
Keynote Speaker
Dr. Patty Norman, Deputy Superintendent of Student Achievement, Utah State Board of Education
Lunch Panel will include elementary teachers and PE specialists sharing ideas to successfully incorporate activity throughout the school day.
Cost of Conference
$35 for Teachers
Conference fee includes the following:
Shape Utah Membership
Healthy Bodies, Healthy Minds Conference
Lunch and Snack
8 Re-licensure Points
Resources and tools to use in your classroom
Contact Jodi Parker (Kaufman), Health and Physical Education Specialist, with questions: 801-538-7734 jodi.parker@schools.utah.gov
---
BREAKOUT SESSIONS
STEM Activities
Yoga
Dance
Elementary PE
Playworks
Gopher Sport
Revised Health Education Standards
Prevent Child Abuse
Emotional Regulation
Juggling
Nutrition
Science and Movement
First Tee Golf
MIDAS REGISTRATION
Registration and Payment through MIDAS (Visa & Mastercard only). https://usbe.midaseducation.com/
For MIDAS support contact Krystol Carfaro: 801-538-7988, krystol.carfaro@schools.utah.gov