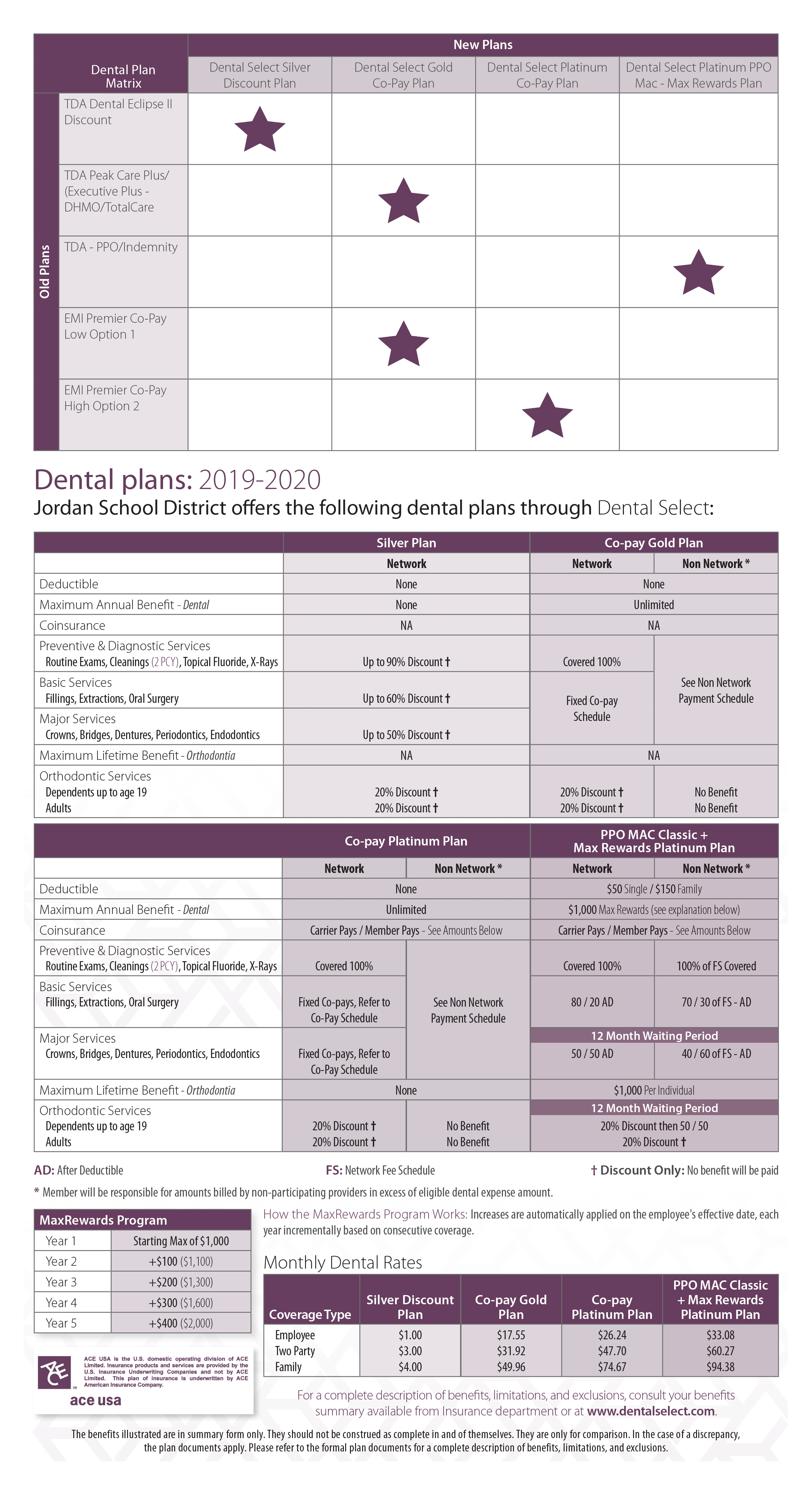 Jordan School District Open Enrollment is June 1, 2019 through July 31, 2019, for an effective date of September 1, 2019.
---
Benefit Presentations and Q&A Meeting Schedule
District Office, Room 129
7387 South Campus View Drive
May 22 at 4:00 pm and May 23 at 5:00 pm
---
Health and Benefits Fair
The Health and Benefits Fair has been scheduled for Wednesday, June 12, 2019, at the District Office from 3:30 to 5:30 pm
Representatives from the Public Employees Health Program (PEHP), Express Scripts, CRX International, Dental Select, Opticare, CIGNA Life and Long-Term Disability, AFLAC, Blomquist Hale, Senior Benefits, Utah Retirement Systems and others will be at the Health and Benefits Fair. Free blood pressure, body composition, blood glucose, cholesterol and glaucoma screenings will be provided at no charge.
Health Insurance Benefit Changes
In an effort to maintain a comprehensive offering of benefits, while at the same time keeping premiums at the current level, the following changes will be made for 2019-2020:
Premiums
No Employee Premium Increase: Premium sheets are located on the District Insurance Department webpage: jordandistrict.org/departments/insurance.
Medical
Administrative changes recommended by PEHP on all plans.
FSA
Health Care Account maximum increased to $2,700.
Prescription
For the safety of our members an Opioid Management Program implemented.
---
Dental
Dental Select will be the single source Dental Provider. If you are currently enrolled in Dental Select Sliver, Gold or Platinum plans you will continue to be covered under your respective plan. If you are enrolled in EMI or TDA, you will need to complete a Benefit Change form (available on the JSD insurance web page) electing one of the dental plans offered. If you do not submit a Benefit Change form by July 31 you will be automatically enrolled in the plan comparable to the benefit/premium you are currently enrolled in. See attached information sheet for additional details including plan designs and premiums.
Enrollment guide, premium sheets, election forms, carrier information, certificates and notifications (i.e. CHIP, Medicare D Creditable Coverage) are available for review or printing on the District Insurance Department webpage. If you require assistance in accessing the webpage you may contact the insurance office at 801-567-8146 or 801-567-8341.
Complete the "Employee Benefit Change Form" ONLY if you are making changes or enrolling for the first time. New hires complete the "New Hire Benefit Election Form".
If you wish to participate in flexible spending you must elect new amounts for your flexible spending account each year. Amounts do not roll over.
Current Employees return completed forms to the District Insurance Office by July 31, 2019. Forms may be submitted the following ways:

Hand deliver to the JSD Insurance Department

(Jordan Landing)

Fax:

801-567-8070

Scan and email

(see emails under contact information)
US Mail: 7387 S. Campus View Dr., West Jordan, UT 84084
Flexible Spending enrollment online at PEHP.org. Log into PEHP for Members at www.pehp.org. Click the Online Enrollment button at the top of the page to enroll in FLEX$ during open enrollment. If you have any issues with online enrollment please contact PEHP Flex Department 801-366-7503.
Summary of Benefits and Coverage (SBC) is a document, required to be made available by Health Care Reform. The purpose of the SBC is to provide information to help employees compare health plans. The SBC is available on the District Insurance Department webpage. A paper copy will be provided upon request. If you have any questions regarding the SBC, please contact a member of the Insurance Department for clarification.
Please familiarize yourself with the benefits in the master policy. A copy will be mailed to your home at the beginning of the new plan year and will also be available on the District Insurance Department webpage.