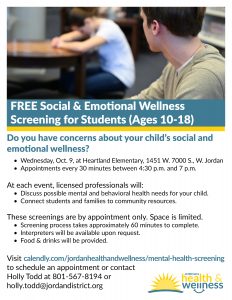 Jordan School District is offering offering free free Social & Emotional Wellness Screening for Students (Ages 10-18) on Wednesday, Oct. 9, at Heartland Elementary, with appointments every 30 minutes between 4:30 p.m. and 7 p.m.
At each event, licensed professionals will:

Discuss possible mental and behavioral health needs for your child.
Connect students and families to community resources.

These screenings are by appointment only. Space is limited.

Screening process takes approximately 60 minutes to complete.
Interpreters will be available upon request.
Food & drinks will be provided.
Visit calendly.com/jordanhealthandwellness/mental-health-screening to schedule an appointment or contact Holly Todd at 801-567-8194 or holly.todd@jordandistrict.org.