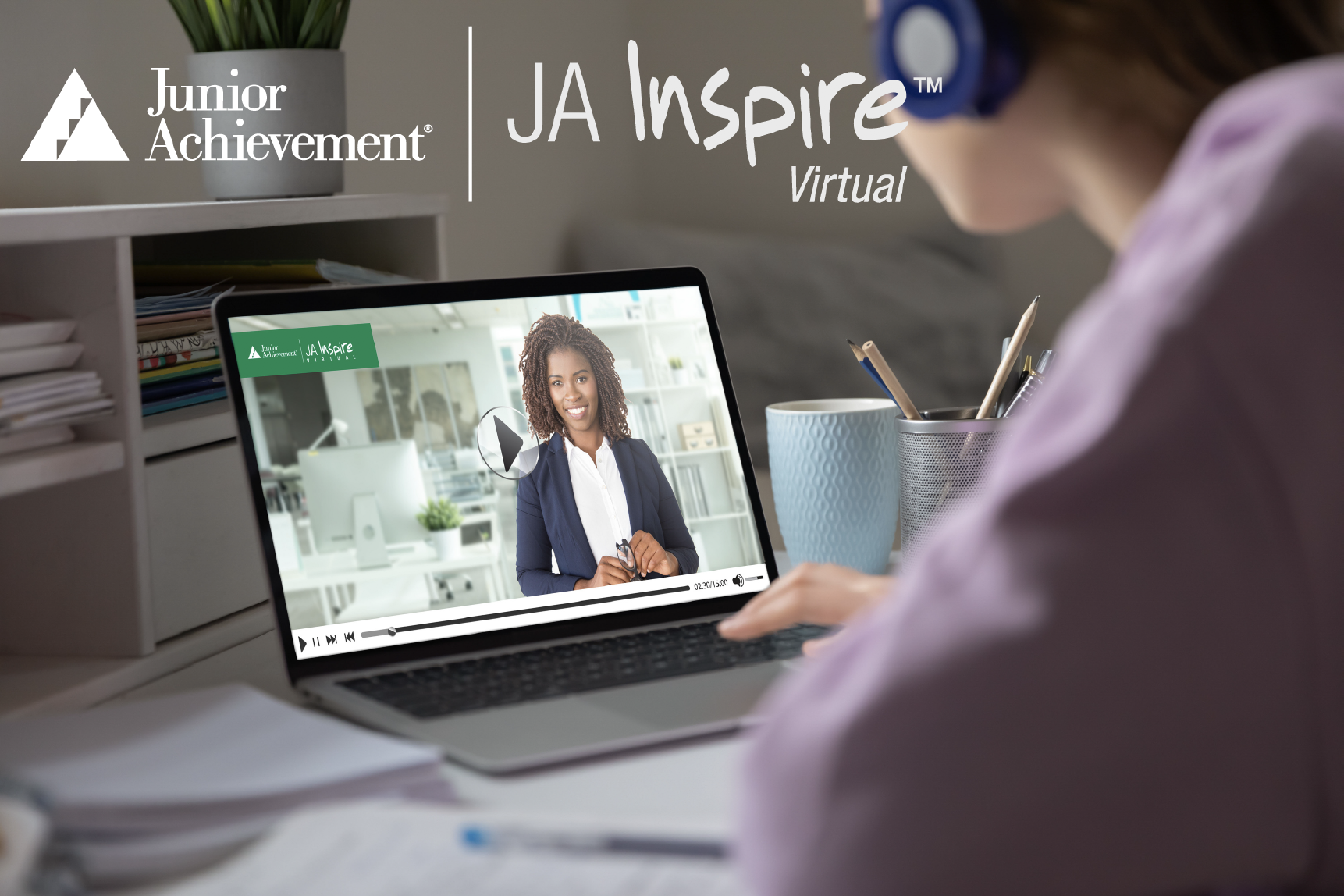 JA Inspire Virtual Career Expo is Junior Achievement's capstone career development program for 9th-12th grade students brought to life by our region's employers. Using virtual technology, JA Inspire 2021 is a career expo event filled with local businesses and higher education exhibits providing downloadable career information and exhibitor videos.
Available at no cost to you, JA Inspire 2021 is adaptable for in-class or remote learning!
The JA Inspire Career Expo live event day is Tuesday, May 11, 2021 from 8 a.m. - 3 p.m.
Students will have flexible access on the live day and extended student access for 90 days after the event.
On April 19th, JA will provide teachers a link to our FlipSnack Digital Student Workbook.
There are 5 pre-event lessons and 1 post-event lesson. The lessons are 15-20 minutes each and contain fillable PDF forms, embedded videos and a career assessment. These can be teacher led or assigned to students as self-guided.
Over 60 local businesses, within many of the 16 career clusters, will have virtual booths with business, higher education and career cluster information, videos, pamphlets, and more. All booths are developed by the business, just like an in-person career fair.
Students have the opportunity to visit as many booths as they would like. They may visit businesses within their career cluster chosen through the assessment, or they may visit others that seem interesting to them.
The students' virtual backpack allows them to collect information from the booths and access it at a later date. Students will have access to the entire career fair for 90 days after the event, allowing them to share information with teachers and others at home.
Motivational speakers and career readiness content from our booth sponsors are available live or on-demand in the auditorium.
A Leaderboard feature motivates students to visit booths, watch videos and download documents.
JA Inspire can be completed while in school or while students work remotely. It's up to you. There is no live interaction with or between students, so it is a completely safe environment for all.
---
A Teacher Training Call was held last week to demonstrate the online portal and answer questions regarding the event. It can be accessed at the following link if you'd like to check it out:
Please share this with any students participating.
Finally, to register students, please visit the following site:
We will assign confidential usernames for the students to use on the live day and share those with you in May. I've also attached the Educator Manual which contains FAQs for the event.