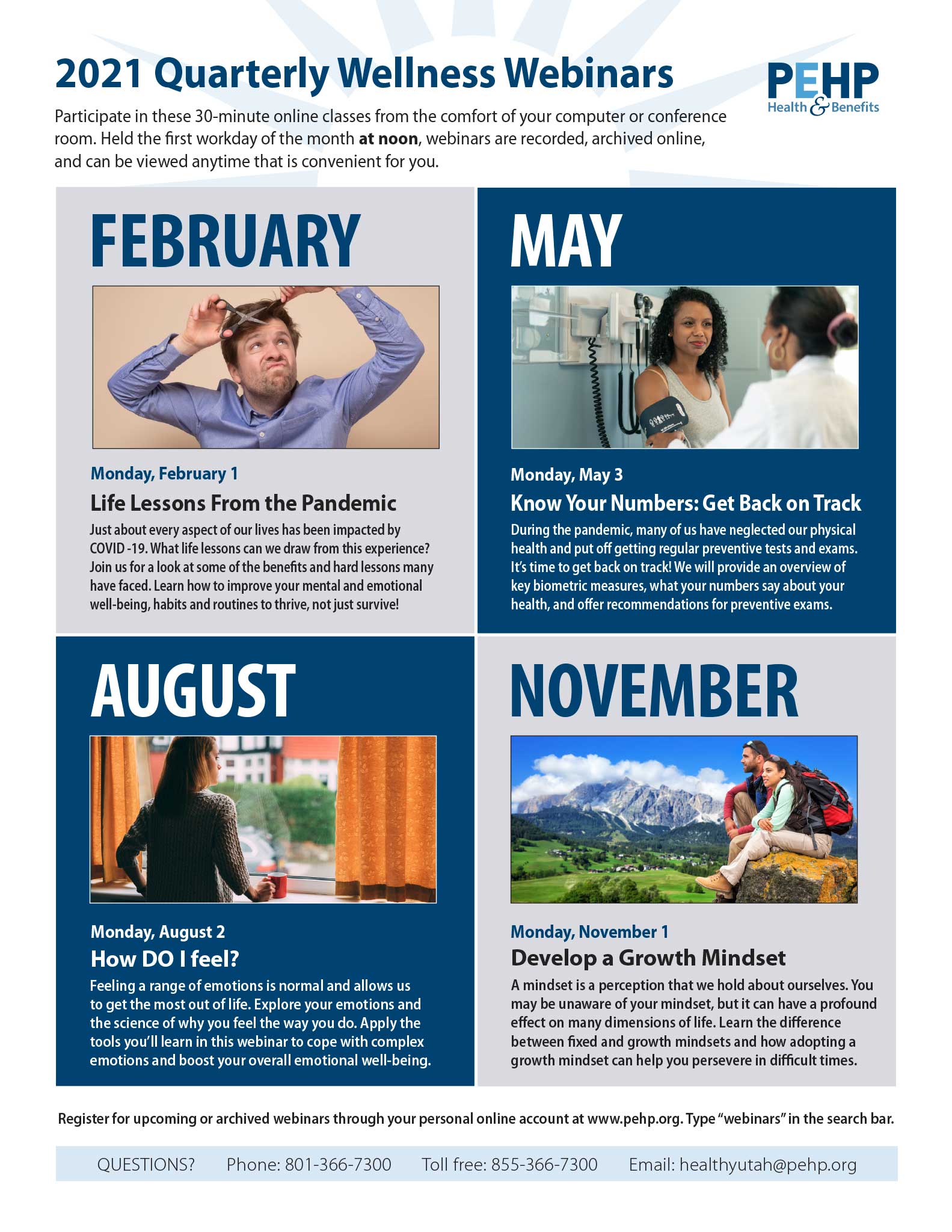 2021 Quarterly Wellness Webinars
Participate in these 30-minute online classes from the comfort of your computer or conference room. Held the first workday of the month at noon, webinars are recorded, archived online, and can be viewed anytime that is convenient for you.
Monday, Feb. 1: Life Lessons From the Pandemic
Monday, May 3: Know Your Numbers: Get Back on Track
Monday, Aug. 2: How DO I feel?
Monday, November 1: Develop a Growth Mindset
Register for upcoming or archived webinars through your personal online account at www.pehp.org. Type "webinars" in the search bar.
---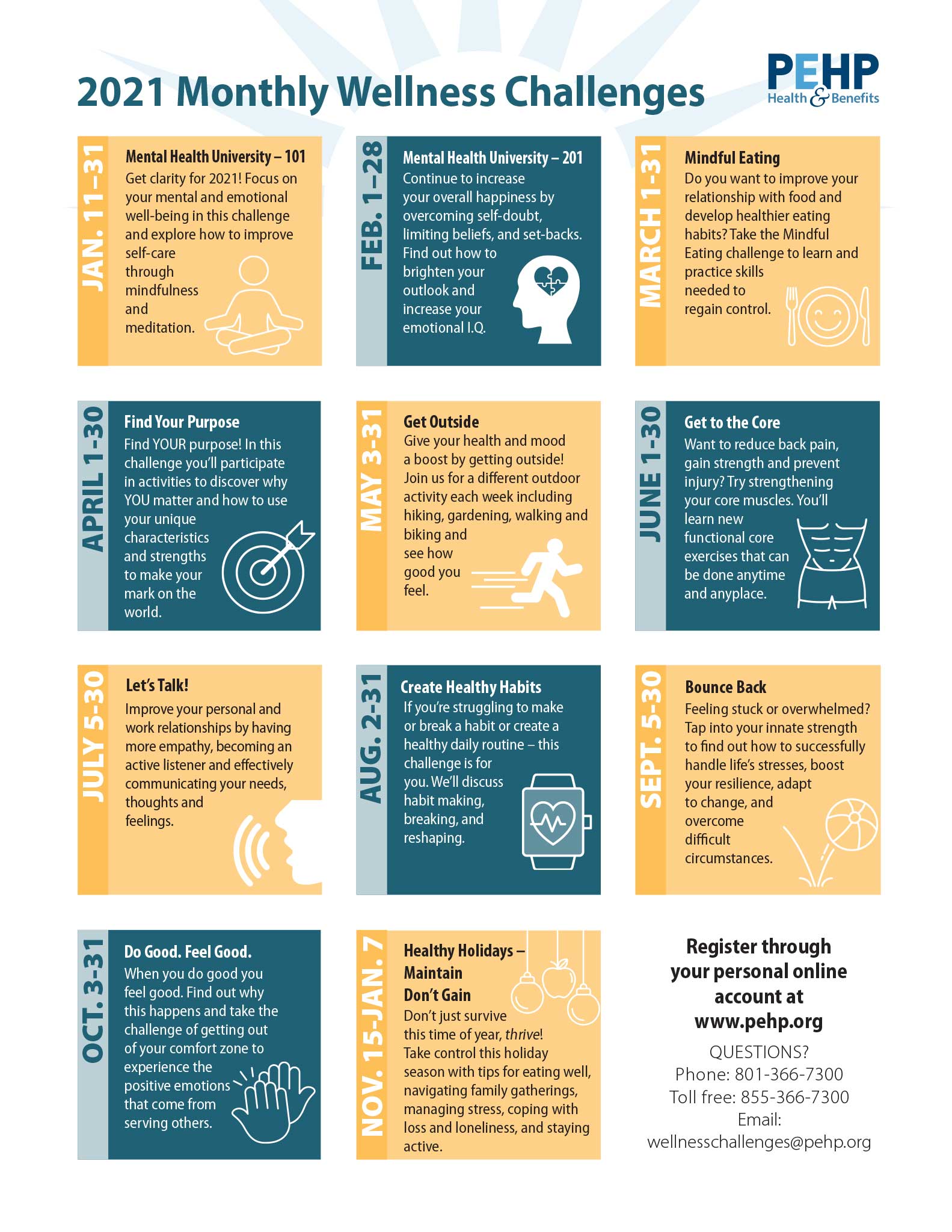 2021 Monthly Wellness Challenge
You are Invited to Take the Wellness Challenge! By trying to make a few simple changes each month, you can form positive habits that last a lifetime.
Registration opens one week before the challenge begins. You can register anytime during the challenge, however we recommend that you sign up early to receive all content. To register, log in to your personal online account at www.pehp.org. (Go to: Wellness tab> Programs>Wellness Challenges)
By signing up you are registering to receive educational emails which challenge you to meet a particular wellness goal. All challenges are developed and moderated by PEHP Wellness staff. You will receive motivational emails, and are entered into a prize drawing for participating. PEHP Wellness staff is available for questions and assistance during the challenge by email or phone. Because this is self-guided learning, you can decide how to use the information and resources provided during the challenge. You can expect to receive one email per week.
---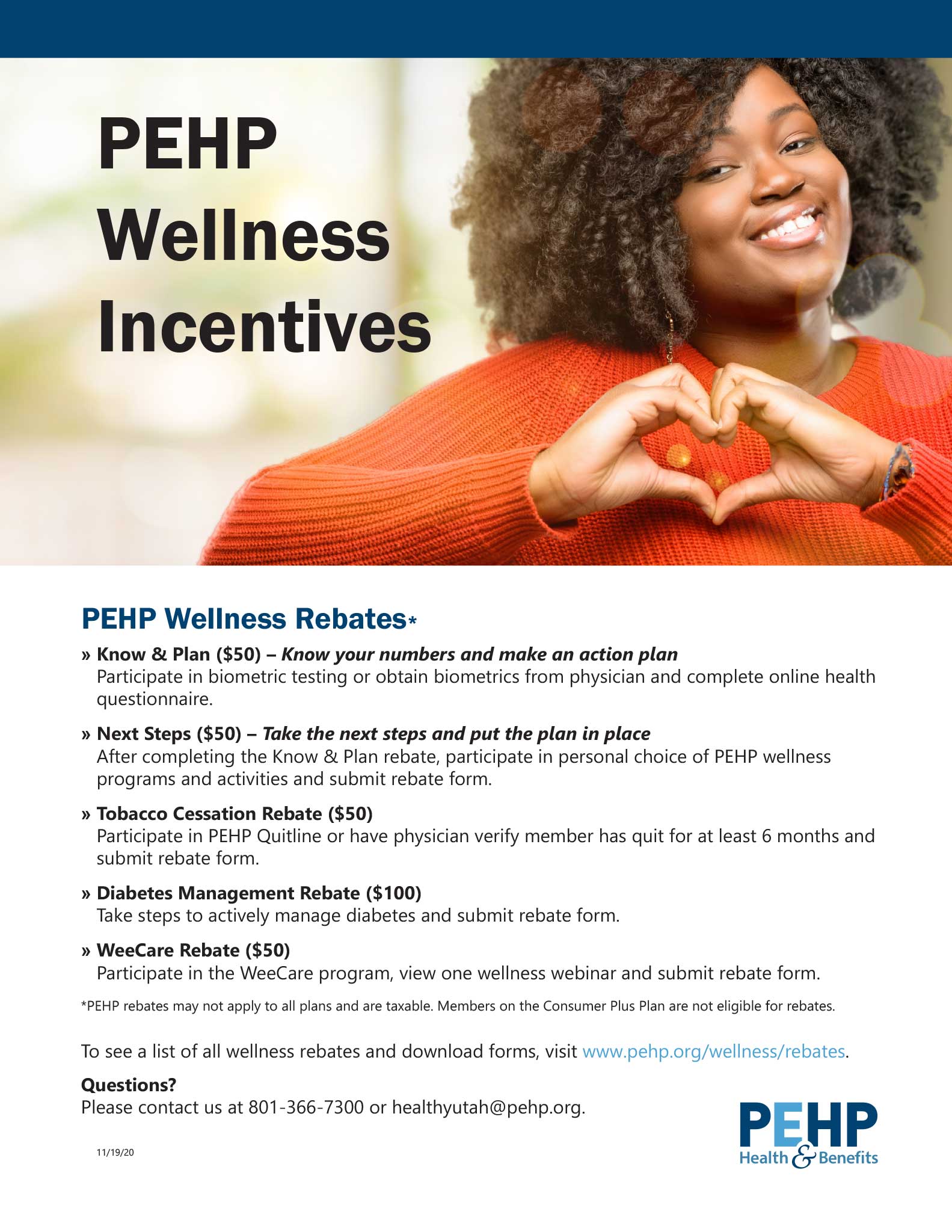 PEHP Wellness Rebates
Know & Plan ($50) – Know your numbers and make an action plan: Participate in biometric testing or obtain biometrics from physician and complete online health questionnaire.
Next Steps ($50) – Take the next steps and put the plan in place: After completing the Know & Plan rebate, participate in personal choice of PEHP wellness programs and activities and submit rebate form.
Tobacco Cessation Rebate ($50): Participate in PEHP Quitline or have physician verify member has quit for at least 6 months and submit rebate form.
Diabetes Management Rebate ($100): Take steps to actively manage diabetes and submit rebate form.
WeeCare Rebate ($50): Participate in the WeeCare program, view one wellness webinar and submit rebate form.
* PEHP rebates may not apply to all plans and are taxable. Members on the Consumer Plus Plan are not eligible for rebates.
To see a list of all wellness rebates and download forms, visit www.pehp.org/wellness/rebates.
Questions? Please contact us at 801-366-7300 or healthyutah@pehp.org.
---