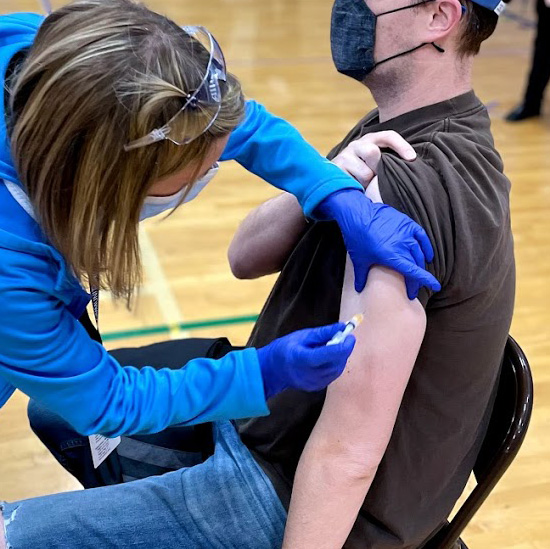 Jordan School District is being allocated a limited number of additional doses of the Moderna vaccine for all employees 18 and older who would still like to participate in the first round of COVID-19 vaccinations. If you have not received the first dose, we invite you to sign up now to be vaccinated this Friday, February 12. Please sign up by Wednesday, February 10 at 4 p.m. We don't know how many more opportunities there will be to receive the first dose through the district, so we highly encourage you to take advantage of this if you wish to be vaccinated. 
If you received your first dose of the vaccine on Friday, January 15 and have not signed up to participate in the second round of vaccinations also taking place this Friday, February 12, sign up now using the link sent to you last week. Please bring your vaccination card with you.  If you have questions contact nadine.page@jordandistrict.org 
The vaccine will be available at the following locations: 
Copper Mountain Middle (12106 South Anthem Blvd., Herriman)

Oquirrh Hills Middle (12949 South 2700 West, Riverton)

South Jordan Middle (10245 South 2700 West, South Jordan)

West Hills Middle (8270 South Grizzly Way, West Jordan)
Please be aware of the following:
You must sign up to be vaccinated using the link below. Vaccinations are not required.

We highly encourage you to take advantage of this opportunity if you wish to be vaccinated. 

Select a time slot and location.

Please sign up by 4 p.m. Wednesday, February 10 to receive a first dose.

 

Anyone who has insurance, whether through the District or not, is expected to bring their insurance card and present it at check in.

There is no cost to employees.
Please bring ID (preferably a District ID Badge).  

Please arrive 10 minutes prior to your assigned time. Do not come earlier, as there is limited parking at all sites.

The lines will move faster if everyone is appropriately dressed to receive a shot in the shoulder. Do not wear long sleeve shirts that cannot be rolled up. We do not provide privacy screens. Short sleeves are best.

You will not be required to take time off to be vaccinated.

We have been allocated the Moderna vaccine which requires a 2-shot series. When you sign up, you will be committing to return at a later date to receive your second dose. Please plan accordingly. You will receive reminders for both appointments.

If you have had COVID-19, you are still eligible to receive the vaccination if you are no longer in isolation or quarantine.

We are only authorized to vaccinate employees, not spouses, children or other non-employees.

Specific questions regarding your health circumstances should be addressed to your personal physician. If your doctor indicates you should not receive the shot and you have signed up, please contact us to cancel your appointment so another employee can receive the vaccination.
Please use this link to sign up for your first dose.
Thank you for your support and patience as we work through this process.